Ceilings

For a calm soundscape and a balanced interior atmosphere
Träullit's interior ceiling products create a comfortable and calm atmosphere in any kind of setting. Our natural ceiling panels contribute to a warm and easeful environment while their functional characteristics contribute with several positive effects to the room. The combination of wood wool and cement creates an airy, thermally insulating, and sound-absorbing structure as well as the provision of fire protection, mechanical strength, and resilience to moisture. The material has an open surface structure which grants its ability to equalize the humidity of the air by continuously absorbing and emitting moisture. Träullit is thermally insulating and stores heat. As a result, it provides an excellent thermal energy economy, with a balanced indoor climate and fewer fluctuations in air temperature year-round.

Träullits assortment of cement-bonded wood wool ceiling products consists of Träullit Acoustic, Träullit Agro, and Träullit Corridor Panel.
Products
Träullit Acoustic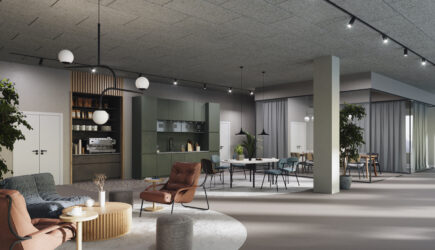 Träullit Acoustic is a homogenous, natural, and versatile building material with functional characteristics like excellent sound-absorption, thermal insulation, moisture regulation, and fire protection. It is an ideal interior ceiling for public premises, restaurants, schools, libraries, stairwells, villas, wet rooms, and venues for sports and events. It is also suitable as a demountable suspended ceiling or as wall-mounted acoustic panels.
Träullit Agro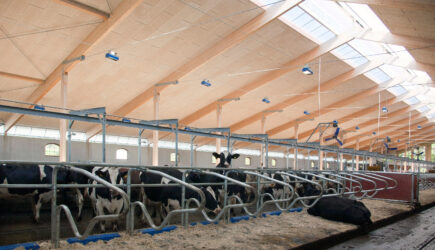 Träullit Agro is a natural, sound absorbing, and functional interior ceiling panel for agricultural and equestrian settings. It reduces high levels of noise, provides fire protection, and continuously balances the levels of moisture in the ambient air. As a result, a more healthy and restful indoor climate for livestock, employees, and visitors is achieved.
Träullit Corridor Panel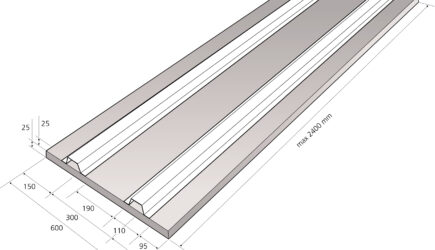 Träullit Corridor Panel is a demountable cantilever acoustic product that is reinforced with a strengthening load-bearing profile. It is uniquely developed for corridors and areas with limited space for ceiling grid installation as it only requires wall trim to provide a load-bearing structure. For wider spaces, Träullit Corridor Panel can also be mounted on a T-profile. The product is customizable in different dimensions with a maximum cantilever of 2400 mm.