Träullit Agro
For a restful acoustic and a healthy climate in agricultural and equestrian settings
Träullit Agro is a natural, sound-absorbing, and versatile interior ceiling product for agricultural and equestrian settings. Träullit Agro reduces high levels of noise, provides fire protection, and continuously balances the levels of moisture in the ambient air. As a result, a more healthy and restful indoor climate for livestock, employees, and visitors is attained. In addition, the product is very well suited as a demountable suspended ceiling or as wall-mounted acoustic panels.
Agricultural and equestrian settings are often characterized by high levels of noise. A healthy soundscape is a fundamental component to prevent stress and to reduce harm for the livestock and the public who populate these settings. With good acoustics, a more healthy and restful indoor climate is attained, resulting in healthier livestock, employees, and visitors.
A restful soundscape
Sound absorption is an essential component for the provision of a pleasant and healthful environment for animals who reside in, and people who visit agricultural and equestrian settings. Noise-induced hearing loss is not to be repaired — it is to be prevented. While employees and visitors spend limited time in these environments, the livestock resides there at all hours of the day. In many cases, animals have far superior hearing than humans, placing even greater demands on the soundscape of the premises to ensure their well-being. An environment with efficient sound absorption and a healthy acoustic climate will result in less stress, healthier animals, and a more restful atmosphere for employees and visitors.
Moisture regulation
Träullit Agro is a moisture-regulating material. Damp, humid, and cold air provides a perfect habitat for mold, mildew, or rot to thrive which, if left unattended, will severely impair the air quality and by extension be directly harmful. Träullit Agro is, due to its open surface structure, able to balance the relative humidity by continuously absorbing and emitting moisture into the ambient air. This natural moisture buffering both enhances the indoor climate and lowers energy costs as it reduces fluctuations in the room temperature. Due to the materials' high pH, it is unsusceptible to mold and rot.
Diffuse ventilation
Diffuse ceiling ventilation is an air distribution concept where the entire ceiling is utilized as a fresh air supply. The space above the suspended ceiling is used as a plenum and fresh air is supplied into the building through the perforations of the Träullit Agro ceiling panels. With fans in the exhaust air diffusers, a negative pressure is created in the building that continuously is refilled with fresh air through the airy and homogenous Träullit Agro panels. Due to the large supply area, the air is delivered into the building with very low velocity, without ventilation noise, and with an even airflow. This results in a smooth distribution of fresh air, a balanced temperature, and an environment free of draught. Furthermore, no vapor barrier is required since the air permeability of Träullit Agro is significantly superior to that of all other wood fiberboards. Diffuse ceiling ventilation is a widely used technique due to its low investment cost and high thermal comfort level without the requirement of advanced control systems.
Eco-friendly
Träullit Agro is an organic and renewable material with very low emissions. It consists of locally grown Swedish spruce, water, and cement — nothing else. It allows for natural, long-lasting, and eco-friendly constructions, providing a healthy atmosphere for animals and the people who populate these settings.

Träullit Agro has undergone Environmental Product Declaration testing (EPD). Evaluations by SundaHus Miljödata and Byggvarubedömningen, a non-profit organization that analyzes the environmental impacts of products in the construction sector, indicate low environmental impact. Furthermore, Träullit Agro received outstanding scores when reviewed by ECOProduct, a product evaluation certificate based on third-party verified environmental declarations, with renowned international standards and references as the basis of assessment.


Träullit Agro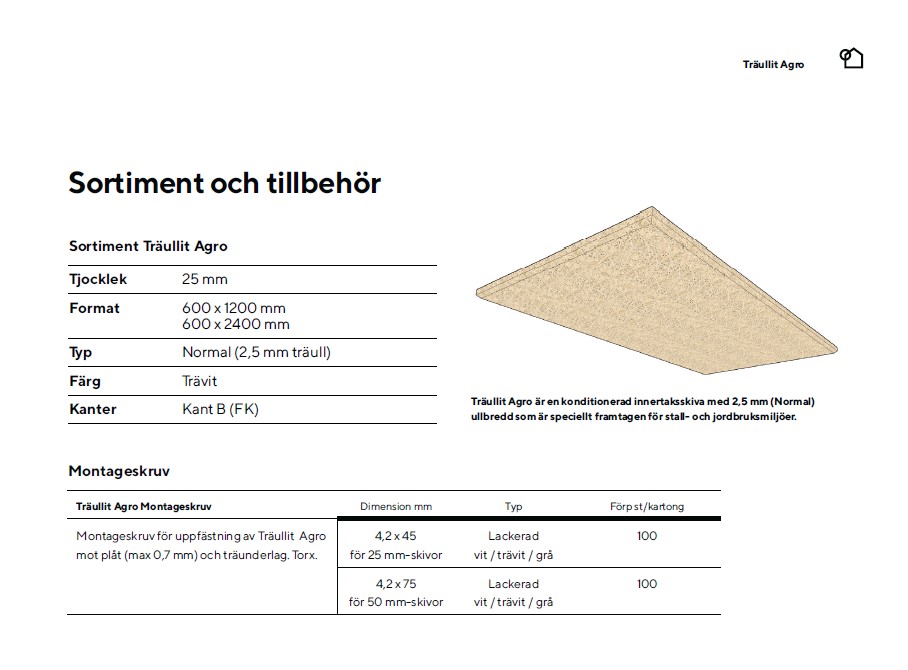 Filter:
All

Product information

Environment

Technical standards