Träullit Wall Element
For a more sustainable, functional, and eco-friendly house construction
Träullit Wall Element is a unique building system of cement-bonded wood wool that offers the market a natural, homogenous, and insulated external wall with many functional characteristics. Träullit Wall Element has a superior heat accumulation. It stores heat that is emitted when the air temperatures fall, contributing to a consistent, comfortable indoor climate without fluctuations in air temperature and with lower energy costs as a result. In addition, the product offers excellent thermal insulation, sound absorption, resistance to fire, mold, and rot, solid mechanical strength, and provides a great foundation for mineral plasters.

The wall elements are customized for every project and are precast at Träullit's factory. This allows for a very swift construction period, meeting the increasing demands for industrialized and streamlined constructions. Träullit Wall Elements are especially suited for villas, schools, sports centers, venues, and office buildings.
Träullit Wall Element combines technical characteristics like heat accumulation, sound absorption, mechanical strength, fire resistance, and resilience to mold and rot with a very swift and time-efficient construction period.
Time and cost-efficient constructions
Träullit Wall Element is a unique building system of cement-bonded wood wool external walls that are precast at Träullits factory according to the unique and individual specifications of each project. The walls are installed and cast-in-place in less than a day, resulting in a very time and cost-efficient construction period. The finished product is a natural and homogenous external wall with exceptional characteristics for a very low total cost.
Thermal insulation and heat accumulation
Träullits thermally insulating external walls have been used to build natural and energy-efficient houses for more than 70 years. The dense walls offer outstanding energy economy and heat capacity that help create a comfortable indoor climate with balanced air temperatures year-round. Enjoy a warm and restful home during the winter and a cool and tranquil one during the summer, with reduced energy consumption and lower heating costs!
Highest fire classification available
The bonding agent in Träullit Wall Element, cement, adds strength and solidity to the product and contributes to its very high resistance to fire. Träullit Wall Element holds the highest fire classification available, REI360, and can withstand full fire for up to six hours.
Resilient and mechanically strong
Träullit Wall Elements contains no closed cells and has an effective moisture diffusivity and air permeability. It can be saturated with rainwater and dried without affecting its characteristics. This, in combination with its high pH, makes it very resistant to moisture, frost, mold, or rot. The bonding agent, cement, provides a solid mechanic strength and an impact-resistant surface that withstands external influences.

Thanks to its mechanical strength, Träullit Wall Elements is a more firm and robust foundation for plaster than other insulating materials. Its coarse surface structure is perfect for applying plaster, but can also hold any desired exterior wall cladding.
Assortment & specifications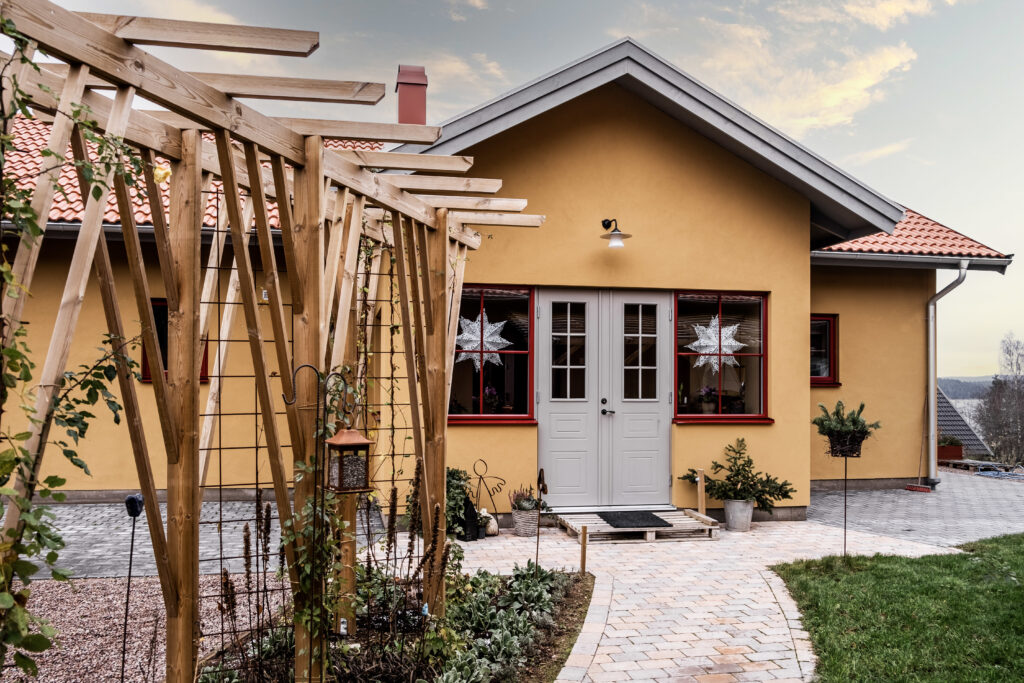 Filter:
All

Product information

Technical standards