Träullit Compact Element
For small-scale houses and compact constructions
Träullit Compact Element is for building holiday homes, garages, guest houses, garden sheds, and other smaller constructions. The cement-bonded wood wool wall elements are reinforced with round timber for greater solidity and carrying capacity and offer the same acknowledged functional characteristics as all of Träullits products. A swift and simple installing, high resistance to fire, mold, and rot, excellent thermal insulation, heat accumulation, and low U-values make Träullit Compact Element an excellent choice for smaller constructions.
Träullit Compact Element is a sustainable, functional, and organic exterior wall element for smaller constructions. The product offers functional characteristics like thermal insulation, thermal energy storage, sound absorption, mechanical strength, and resistance to fire, mold, and rot.
Functional characteristics
Like all of Träullits products, Träullit Compact Element offers a multitude of functional characteristics. It provides a thermally insulating framework with exceptional thermal energy storage that is completely free from plastics and other synthetic materials. When comparing the thermal transmittance with other homogenous materials, like lightweight concrete or Leca, Träullit Compact Element is the least thick option for an equal U-value. Due to its open surface structure without closed cells, it offers effective moisture diffusivity and air permeability. Träullit Compact Element can be saturated with rainwater and dried without affecting its characteristics. In combination with its high pH, this makes the product very resistant to moisture, frost, mold, or rot. The bonding agent, cement, provides solid mechanic strength and an impact-resistant surface that withstands external influences.

Träullit Compact Element is a more firm and robust foundation for plaster than other insulating materials. Its coarse surface structure is perfect for applying plaster, but can also hold any other desired exterior wall cladding.
Swift installation
Thanks to the product's construction, where joints and trusses are facilitated by forging the story-high wall elements together, only a very short construction period is required. One person can approximately install 3 m² of Träullit Compact Element per hour, meaning the exterior walls of an average private garage of 50 m² are installed in only one day by two workmen.
Organic and eco-friendly
Träullit Compact Element is an organic and renewable product with very low emissions. It consists of locally grown Swedish spruce, water, and cement — nothing else. It allows for natural, long-lasting, and eco-friendly constructions, providing a healthy atmosphere for anyone who populates these settings.

The product has undergone Environmental Product Declaration testing (EPD) and is evaluated with great results by SundaHus Miljödata and Byggvarubedömningen.
Assortment & specifications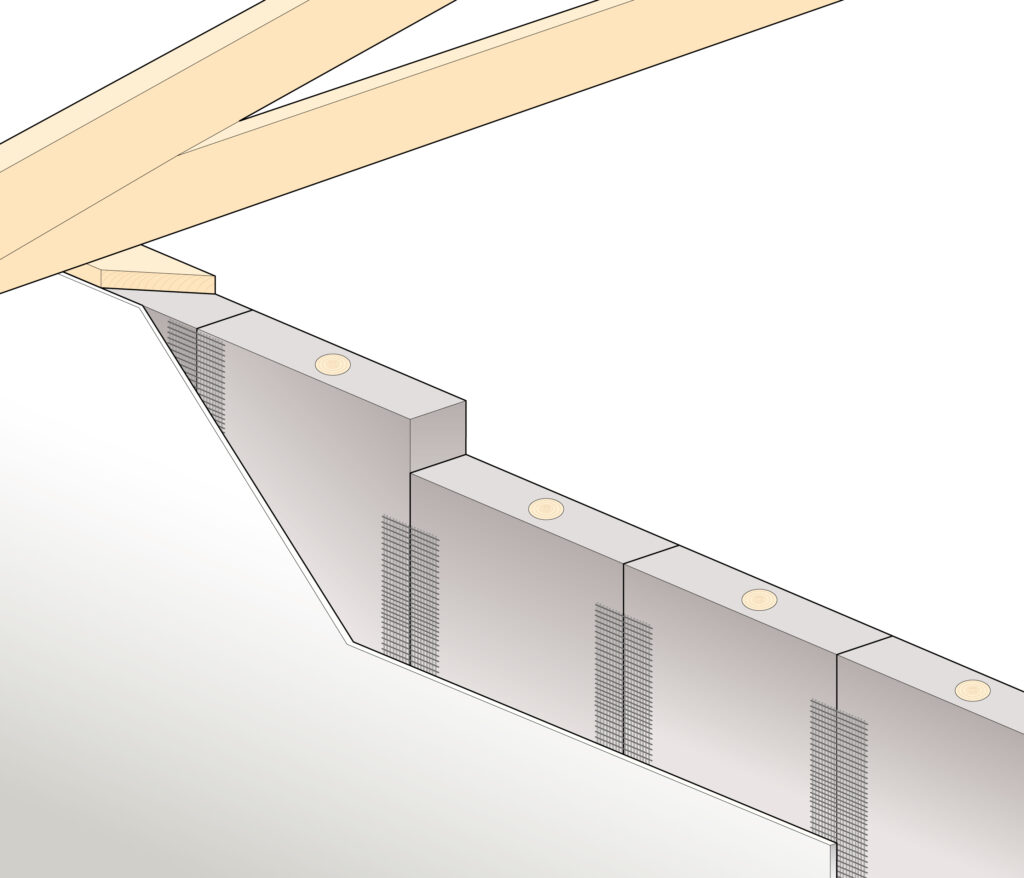 Filter:
All

Product information

Technical standards